Many new laptops will demonstrate the power-saving elements of Intel's new fourth-generation Core parts, but not the new, $1,579 CyberPower FangBook Evo HX7-200. This sharp-toothed monster is designed for performance, shredding older competitors with Intel's latest mobile CPU and Nvidia's newest mobile GPU.
Yes, Intel's taken the wraps off the CPUs code-named Haswell, addressing everything from desktops to gaming notebooks, business notebooks, and ultrabooks, and even down into tablets. Inside the new HX7-200 lies the Intel Core i7-4700MQ, a quad-core chip with hyperthreading support that runs at a base clock speed of 2.4 GHz. Intel's M-series mobile processors are a step down from the top-of-the-line H-series, where you get Intel's new Iris Pro graphics. But if you're a dyed-in-the-wool gamer, you want a discrete GPU anyway. CyberPower obliges by putting an Nvidia GeForce GTX 780M to help drive this beast's 17.3-inch, 1920-by-1080-pixel display.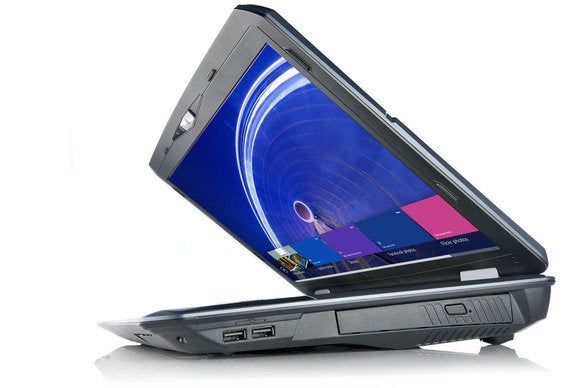 Our Worldbench 8.1 benchmark suite is still relatively new, so we haven't amassed a large collection of scores that we can compare to the FangBook EVO, but a Notebook Worldbench 8.1 score of 417 indicates the Fangbook is clearly in a different league. The next best score of 284 belongs to the Toshiba Kirabook, which is powered by a third-gen Core i7-3537U and 8GB of memory.
Although PCWorld's Worldbench suite includes games such as Crysis 3 and DiRT Showdown, I also tried two slightly older action games— Saints Row: The Third and Metro 2033—to get a more subjective opinion. Both played superbly at high resolutions and detail: 1600 by 900 for Saints Row, using "high" settings, and 1650 by 1,050 while using DirectX 11 "high" settings for Metro 2033. I noticed no slowdown with either game, although there was some slight tearing in spots while playing Saints Row. Fan noise increased as the notebook took on the heavier processing load, but it never reached bothersome levels.
To read this article in full or to leave a comment, please click here
Source: http://www.pcworld.com/article/2040458/review-cyberpower-fangbook-evo-hx7-200-taps-4th-gen-core-for-high-end-gaming.html#tk.rss_laptopcomputers